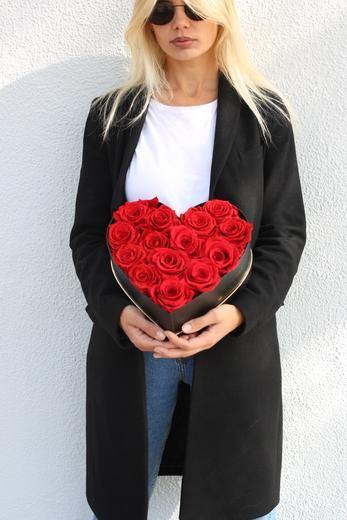 Roses are  the most common flowers that are  used for stabilization.They look great after finished process and retain their natural appearance.  It is quite difficult to distinguish  preserved roses  in the interior  since they look exactly like real roses .
You can find preserved  roses both in a single frame  or in unique  presentation boxes , for example, in a small  glass aquarium, in the form of a ball composition or a heart box. But stabilized roses in glass dome  are perhaps the most romantic gift for Valentine`s Day!
Maintenance and repair of stabilized roses :
When  taking care of stabilized plants, the following rules must be considered :
Move preserved roses with care  when changing location in an apartment, house or office.  Such plants are too fragile and, if incorrectly transferred, can be destroyed.
During transportation, use cardboard containers and observe the temperature regime not lower than 41 and not higher than 86 degrees without condensation;
 Do not allow bright rays of the sun to hit the surface of plants;
 Do not expose compositions in a room with a very low or high humidity level;
 Do not allow any moisture to get on the plants;
 Do not cool the room, since a sharp drop in temperature will have a detrimental effect on the created structure;
  Remove dust from the surface with a hair dryer, choosing a cold blowing mode on